Chemical Biology at MGH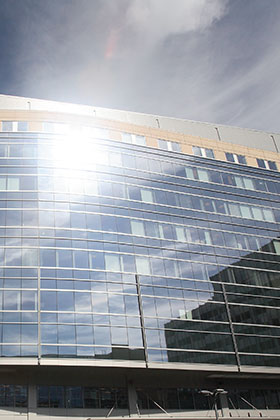 Experimental approaches at the interface between chemistry and biology are becoming increasingly common and increasingly important at the Massachusetts General Hospital.

This web site is intended to help bring together researchers from across the spectrum of research laboratories at MGH interested in chemical biology as an approach to fundamental discovery, diagnosis, or therapy. We hope that the site will strengthen the MGH chemical biology community and provide new opportunities to pursue collaborative research projects and funding.

The site is divided into four major sections:
Labs and People - an introduction to the work and the people of each laboratory
Resources - A database of useful resources available in other labs
Funding - Occasional notice of funding sources
Forum - An area for discussion of topics of common interest [to come]
---

We invite you to join our community of researchers in chemical biology at Massachusetts General Hospital. Please contact the webmaster if you are interested in being a part of the group or if you have questions about participation and our goals.


---
Please send any corrections or suggestions regarding the site to the webmaster, Marc Davignon, in the Center for Computational and Integrative Biology.

Contact the