Stephen J. Haggarty Laboratory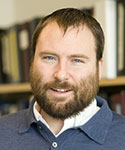 STEPHEN J. HAGGARTY, PhD

http://massgeneral.org/chgr/faculty_haggarty.htm


Center for Human Genetic Research
Simches Research Center, CPZN-5242
185 Cambridge Street
Boston, MA 02114
phone: (617) 324-9633
fax: (617) 643-3202

About Stephen Haggarty

Stephen J. Haggarty, Ph.D., is an Assistant Professor of Neurology at Harvard Medical School, an Assistant in Neuroscience at Massachusetts General Hospital's Center for Human Genetic Research, an Affiliate Faculty member of the Harvard Stem Cell Institute, and the Director of Chemical Neurobiology for the Stanley Center for Psychiatric Research at the Broad Institute, a research collaboration of the Massachusetts Institute of Technology, Harvard University and its affiliated hospitals.

Dr. Haggarty graduated from The University of British Columbia, Vancouver in 1997 with a degree in genetics and received his Ph.D. from Harvard University in 2003 for his work developing methods for high-throughput chemical screening and the identification of small-molecule probes of the cell cycle and chromatin remodeling. Dr. Haggarty then joined the Broad Institute as a research Fellow in the Chemical Biology Program and became a founding member of the Psychiatric Disease Program and the Stanley Center for Psychiatric Research.

Research

Dr. Haggarty's overall goal is to understand how changes in brain chemistry influence the neural circuits underlying mood, learning and memory. His research program involves combining synthetic chemistry, neuroscience, and human genetics. Using this chemical genomic approach, members of his group invent new methods for finding small-molecule probes that target key components of the neurocircuitry, and then use these probes to selectively perturb network function at the molecular, cellular and circuit level.

The overall aims of his research group are threefold:
The development of novel cellular and biochemical assays for screening small molecules, RNAi, and cDNA libraries in order to discover agents for targeting disease-relevant mechanisms and pathways identified by human genetics.
The identification of targets and functional characterization of new molecular probes using proteomic methods and biochemical assays in brain tissues and live cell models, including primary neurons neural stem cell models.
To test compounds employing a new mechanism of action in animal behavioral models relevant to mood and memory disorders.
Dr. Haggarty hopes his work will lead to novel therapeutic approaches to treating neuropsychiatric and neurodegenerative disorders.



Lab Members

MGH - The Center for Human Genetic Research
Krista Hennig, PhD Research Fellow
Surya Reis, PhD Research Fellow
Naveen Krishnan, BSc Research Technician
Iren Kurtser, MSc Research Technician

Broad Institute - The Stanley Center for Psychiatric Research
Thomas Nieland, PhD Collaborator
Dan Fass, PhD Research Fellow
John Madison, PhD Research Fellow
Jen Pan, PhD Research Fellow
Josh Ketterman, MSc Research Technician
Catherine Luce, MSc Research Technician
Jessica Tsai Research Technician