James R. Stone Laboratory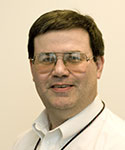 JAMES R. STONE, MD, PhD
Web sites: http://www.vascularpath.org/index.htm
http://www.massgeneral.org/pathology/cardiovascular.htm



Simches Building, Room 8236
185 Cambridge Street
Boston, MA 02114
phone: 617-726-8303
fax: 617-726-2365

About Jim Stone
Dr. Stone was born in Beech Grove, Indiana in 1967. He attended, Wabash College, a small private liberal arts college in Crawfordsville, Indiana, from where he graduated summa cum laude with a B.A. in chemistry. He then entered the Medical Scientist Training Program at the University of Michigan in Ann Arbor, Michigan. His doctoral thesis research was performed in the laboratory of Prof. Michael A. Marletta, one of the key scientists responsible for the discovery of nitric oxide generation by mammalian cells. There, Dr. Stone purified and characterized the sensor for nitric oxide, the soluble form of guanylate cyclase. Using spectral and rapid-kinetic techniques, Dr. Stone discovered that this heme-based sensor has an unusual heme environment, previously unknown in mammalian physiology, which allows the protein to be responsive to physiologic levels of nitric oxide, while not interacting with molecular oxygen. Dr. Stone graduated from the University of Michigan in 1997 with an M.D. and a Ph.D. in Biological Chemistry.
Dr. Stone then entered the Anatomic Pathology Residency Program at Brigham and Women's Hospital and became a Clinical Fellow in Pathology at Harvard Medical School. Dr. Stone served as Chief Resident in Anatomic Pathology at BWH and completed both clinical fellowship training in Cardiovascular Pathology at BWH and also post-doctoral research on endothelial cell biology in the Vascular Research Division at BWH and at Children's Hospital. Dr. Stone joined the staff at BWH as a Cardiovascular Pathologist, and became an Instructor in Pathology at Harvard Medical School.
In 2003, Dr. Stone accepted the position of Head of the Cardiovascular Pathology Service at Massachusetts General Hospital and became an Assistant Professor of Pathology at Harvard Medical School. Dr. Stone directs an independent research laboratory studying basic mechanisms of vascular disease. He also overseas the clinical Cardiovascular Pathology Service at MGH and directs the Cardiovascular Histology Core Facility which providing technical support for cardiovascular research to multiple laboratories in the Boston area.
Research
Atherosclerosis is the principal cause of heart disease and a leading cause of stroke, and is the most common cause of death in the U.S. The laboratory is seeking to understand the biochemical processes resulting in atherosclerosis in order to combat this pervasive disease. Atherosclerosis is characterized by the development of necrotic/lipid cores within the intima of arteries at particular sites in the circulation. These necrotic/lipid cores form in the setting of a pre-existing intimal hyperplasia, characterized by the proliferation of smooth muscle like cells within the intima.
The laboratory is investigating both the mechanisms of signal transduction responsible for the formation of the pre-atherosclerotic intimal hyperplasia, as well as the factors stimulating the formation of intimal necrotic/lipid cores. Specific projects in the laboratory include elucidation of the biochemical pathways by which low levels of hydrogen peroxide stimulate cell proliferation in the vessel wall, and determination of the vascular extracellular matrix alterations in humans that promote the development of atherosclerosis.
Lab Members
Shahinaz A. Bedri, MBBS
Stephanie Cizek
Mikhail Panchenko, PhD
Nilsa Silva
Paul Talusan